Only six short weeks until shearing, and a short time after that we'll have a lot more yarn around here!  Mom and I are working on developing some simple and intermediate patterns that people might enjoy making with Sheep and Pickle Vermont Aran Yarn.  Mom has some great designs in mind, but I'm down to the last dozen skeins of hand-dyed yarn and I have only odds and ends of the natural yarns.  What to do to test our patterns?
If you're in touch with New England knitters at all, you know that the answer is a day-trip to WEBS, New England's largest yarn store and pilgrimage destination for many a fiber enthusiast.   At WEBS, we selected some relatively inexpensive yarns that we thought would simulate the colors and gauge of next year's batch of yarn.  A textured single-color cowl is one idea we discussed at length.  I have my heart set on a colorwork hat pattern featuring a novel sheep motif.  We'll see if Mom can make it work.   We are also talking about a one-skein design for fingerless mitts that would look nice in the hand-dyed colors.
Mom and Dad and I ate a delicious lunch at a Middle Eastern cafe.  When you live in Central Vermont where "ethnic" means you're French Canadian, real cuisine from abroad is a quite a treat!  During our meal, my parents and I discussed our myriad fiber plans.  I think I've mentioned that my mother is a kiltmaker and that my dad is a weaver – we're a busy bunch!  I repaid Mom for her Research and Development outlay by spiffing up her website with a nice new cover photo:
I also added a picture gallery of champion dancers and general kilt-wearers looking quite handsome in Mom's craft.
During the photo shoot, Mom and I talked about one thought I had about obstacles to internet yarn sales.  One theme that  has come across loud and clear among the yarn aficionados of Ravelry is a certain hesitation about buying online.  Just as people want to try on clothes before they commit, yarn buyers naturally want to evaluate the softness, texture and character of a yarn before they invest in supplies for a large project.  I'm pleased to announce that I am now offering yard-long samples of Sheep and Pickle Vermont Aran yarn for interested knitters and crocheters to test out and evaluate.  Each sample costs a dollar (about the price of the supplies and the postage), but will receive a coupon code for a dollar off their purchase.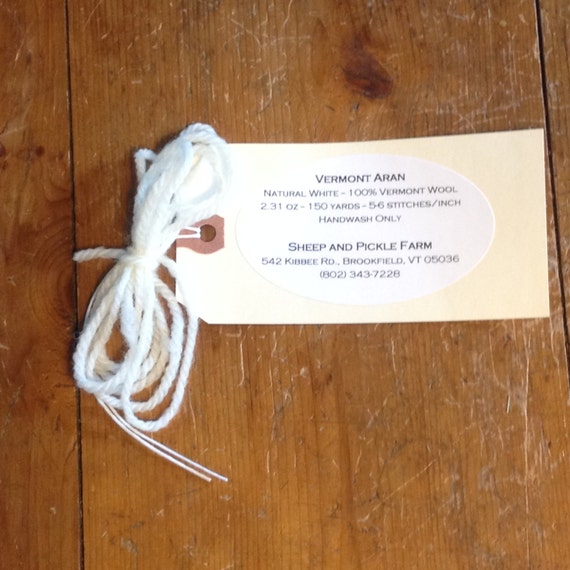 Please note:  The samples are the Natural White color, taken from a remnant length from the spinning process.  Natural White is still sold out for the time being.